Virtual data room definition
Virtual data rooms are digital tools that provide a collaborative platform for multiple parties to share, access and review confidential documents securely. Depending on the specifics of a business or a project, VDR functionality can be tailored to meet the customers' needs.
VDR software is on the rise, and practically every company considers moving all transactions into the digital space. According to Verified Market Research, the virtual data room market was estimated at $1629.89 million in 2021 and is expected to reach $5497.68 million by 2030.
But to make the right choice for your project, you must first get to know the basics of what virtual data rooms are and how they work.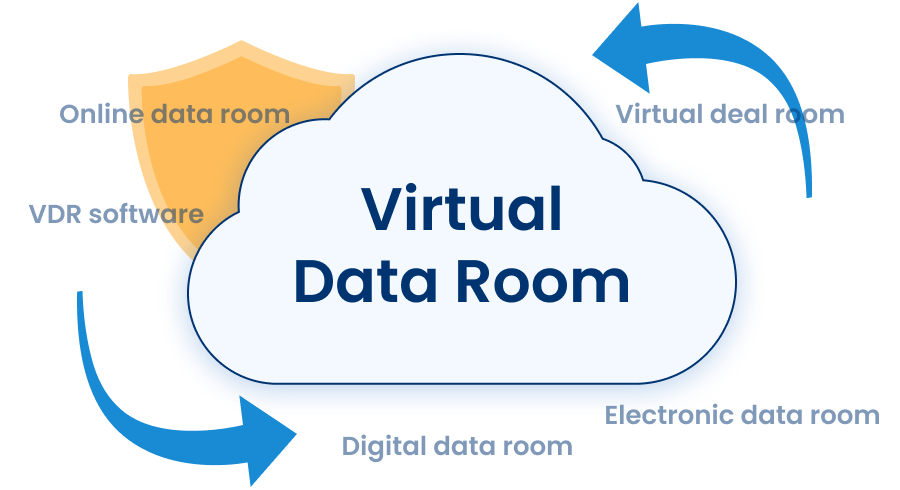 At first glance, all online data room providers look rather similar. They all have pretty much the same features, offers, and approaches. Although, when you take a closer look, you can see that there are differences between them and different virtual data room pricing approaches. Therefore, to choose the best virtual data room for your needs, you have to invest some time in the research. Use our guidelines to compare virtual data rooms and pick the best solution for your project.
Top 5 best virtual data room providers by customer satisfaction
1. iDeals VDR
2. Datasite

3. Firmex

4. Intralinks

5. Ansarada

Virtual data room comparison based on free trial offers
When you compare virtual data rooms, it's also important to pay attention to what exactly is included in their free trials and whether it's really possible to test the digital data room before purchasing the subscription.
The table below compares the top five virtual data room providers considering their free trial offerings.
How to choose virtual data room software?
Define your digital data room requirements
Estimate and allocate the budget
Outline the necessary features
Evaluate the experience of VDR providers
Assess the compliance with data security certifications
Shortlist the virtual data room providers
Use the free trial to test the software
By taking a close look at online data room offers from top virtual data room providers, you should know what questions to ask and what factors to evaluate to find the best value. This website goes deep down into the details to show you which virtual data room providers have the best balance between the choice of secure file-sharing features and their pricing plans in the virtual data room comparison.
Use this checklist to compare virtual data room service providers and select the most suitable solution for your case.
Data room selection guide checklist
1. Define your digital data room requirements
Your company's size and industry of operation
The project's specifics and estimated length
The roles and functions of different people accessing your virtual data room
The volume of secure cloud storage
The overall level of technological comfort with similar tools
2. Estimate and allocate the budget
How much you will save by switching to virtual data room software
Different approaches to price formation in the VDR services segment
The cost to value ratio of various virtual data room vendors
3. Outline the necessary features
Who and how will be using the data room
Obligatory and nice-to-have functionality for your case
The dataroom security regulation specifics in your industry and region
Your preferences in usability, accessibility, reporting, user management, file organization, and rights management
Innovative approaches of top VDR providers
4. Evaluate the experience of VDR providers
Look up their previous and existing clients
Pay attention to what business fields they represented the most and whether they had a good experience given the industry specifics
5. Assess the compliance with data security certifications
Check whether the VDR service provider has been audited by ISO/IEC 27001:2013 Certified Data Centres or SOC 1 or SOC2 (Type I, Type II) Certified Data Centres
Take account of additional data processing terms as required under GDPR, for example, the obligation to secure protections from any subprocessor
6. Shortlist the virtual data room providers
The best data room providers with experience in your sector
Years of operation and development milestones, such as acquisitions
The ability to meet your budget and deliver the most optimal ROI
7. Use the free trial to test the software
A full-feature experience for 30 days
No-obligation guarantee from the data room provider
An option to use the trial period for the safe virtual data room setup
Compare the virtual data room providers
A productive virtual data room comparison is a step to start with when choosing the data room. It should build off the evaluation of security measures, deployment solutions, and customer support.
As you can see, even though we've picked only the best data room providers, there are still many of them. That's why you should start with understanding why you need the online deal room. What kinds of deals will you hold using it? Which functions do you need to feel comfortable maintaining your corporate documents? How often will you use it?
Data room use cases
Virtual data rooms are powerful tools that are used by investment bankers, business owners, lawyers, and many other professionals, working in fields related to IP management, private equity, intellectual property, life sciences, and more. Many strategic partnerships are supported by the advanced functionality of data rooms and collaboration tools to complete complex financial transactions.
M&A
Mergers and acquisitions are always complex and involve many people and sensitive documents. M&A data room software allows M&A professionals to navigate the deal better and react to any query a lot faster.
Due diligence
A digital data room can significantly simplify time-consuming due diligence procedures by organizing large data volumes and allowing third-party experts to access necessary information without putting the rest of the files at risk.
Real estate transactions
Online data room assists real estate transactions with keeping all documents, such as building construction plans and data, NOCs, insurance, mortgage documents, land register entries, contract of sale, etc., in a safe environment for all involved parties to access.
Fundraising / capital raising
When managing a deal with potential investors, it is necessary to disclose confidential business information. VDR provides a safe way to do it while protecting companies' intellectual property. You can read more about virtual data rooms for startup fundraising
Investment banking
Investment bankers use VDR software to share information with qualified buyers. Ability to view who has accessed the files, for how long, and what exact pages, are of particular benefit to investment bankers.
IPO
Some data rooms are specifically equipped for the IPO preparation process. VDR helps efficiently share large volumes of documentation with potential share buyers. As going public is a very time-consuming and stressful process, a company must remain transparent, consistent and share necessary information promptly. VDR is a perfect tool for that.
Licensing / legal document management
A virtual data room can help a law firm and its customers communicate in a secure virtual environment. VDR allows both parties to view, update, sign confidential documents and contracts virtually.
Corporate repository
The corporate repository holds and archives the most sensitive documents of the company. A virtual data room can help distinguish file access and permissions among employees.
Additionally, use cases of virtual data room software are also role-based, meaning that an electronic data room is of great help to many employees within the organization. The table below comprises the most common role-based use cases of virtual data room solutions.
A variety of virtual data room services allow for the easy and secure project management of several projects simultaneously, ensuring their efficiency and parties' active involvement.
The CEO of the company can securely share and view the company's highly confidential documents via a virtual data room. Additionally, many virtual data rooms offer e-signature integrations that allow signing important contracts in a secure centralized space without leaving VDR software.
The secure online repository of online data rooms allows for preparing large volumes of information as well as reviewing it. It's especially useful for analysts and associates when preparing for complex transactions or audits.
Marketing specialists can share all the marketing materials via a virtual data room without the risk of their breach. Additionally, the best virtual data rooms offer collaboration tools that allow for proactively cooperating when working on marketing strategies.
HR specialists work with lots of confidential data such as employees' personal information. This is safe to do with virtual data rooms since they offer a variety of safety features and serve as excellent secure corporate governance software.
Lawyers, attorneys, and other law specialists deal with lots of highly sensitive personal and financial information daily. No doubt, security is of the utmost importance for them. And the best data room vendors provide that level of security.
The most important virtual data room features
Virtual data rooms are used across multiple industries by various-sized businesses to ensure effective and safe document sharing. Seasoned online data room providers always ensure the security and availability of their platform and establish effective communication with the users. Other key features of the best data room software include a user-friendly interface, detailed analytics, flexible customization, comfortable pricing, and an option to test the tool for free.
Most data room providers ensure high data and access security. However, the most comprehensive security certification to look for is ISO/IEC 27001:2013 certification — a leading international information security standard. Recently, some virtual data room vendors started getting an additional certification for personal data protection for cloud services — ISO/IEC 27018. Having this standard certification is proof that the provider is trustworthy and safeguards customer data.
A standard data room software should have the following functionality:
High data security standards
Instant access regardless of location/time/device
Extensive data management functions
User management and access security
Reporting and analytics
Customization options
While conducting your search, you need to take into account that no two virtual data rooms are the same and some will be useful for certain types of projects such as due diligence and M&A transactions. In contrast, others will be useful for things such as case studies and document repositories.
What features should the best data room have?
So, how do we understand which provider offers the best deal? The key is to understand the variety of features present in solutions by top virtual data room providers and then determine which is best for your business needs.
The main virtual deal rooms features can be divided into several functionality groups: data security, data management, access security, reporting, collaboration tools, and customer service.
Built-in redaction.

This feature allows for blackening out certain areas of a document or image, thus making confidential information hidden for users and saving it from unsolicited views.

Built-in virus scan.

Virtual deal rooms are always on the hackers' radars. Constant virus and vulnerability scans allow for building a shield against potential malicious activity and minimize the chance of data leaks or information mishandling.

Digital watermarks.

Trustworthy data room services provide several levels of file protection. Digital watermarking allows the insulation of sensitive documents without affecting their functionality for authorized users. Such watermarks also imprint the information of each accessing user, which creates an extra level of protection against internal leaks
Drag-n-drop uploading.

An ability to upload files in bulk by dragging them inside the data room online saves a great deal of time and allows deal handlers to focus on more substantial matters. Versatile format support goes hand-in-hand with this feature. 

Auto-indexing.

This feature minimizes the efforts to organize large document volumes inside the data rooms. Indexing adjusts as the data gets rearranged and allows users to find the necessary documents in seconds.

Full-text search.

With optical character recognition (OCR), you can find anything in a virtual data room in just a few moments. For this, just enter the keyword into the search bar and OCR technology will find the required file. This is something traditional physical data rooms can't provide.
Granular permissions.

There will always be multiple layers of permissions inside the best data rooms. On top of that, the software may allow you to assign privileges on the user level, duplicating the competency framework inside your organization. 

View as.

Knowledgeable data room providers will let administrators enter the VDR space from the perspective of any user. This way, you can ensure all the rights are correctly assigned, and every participant will have a comfortable and productive experience using the virtual data room services. 

Multi-factor authentication.

The best virtual data room providers establish multiple steps of user verification to reduce the risks of unsolicited activity and closely monitor each user's actions inside the VDR. The authentication process typically involves a password and a verification code sent to an email or a cell phone number.
Audit log.

Activity reporting is a must-have feature for reputable electronic data room providers. Such reports can help you oversee the project better, attract attention to the neglected areas, ensure utmost data safety, and establish better accountability.

Excel export.

The best virtual data rooms allow for immediate exporting of reports in Excel files, which is suitable to use in presentations and meetings.

Granular reports.

With granular reports, a virtual data room admin can overview all the activity performed over a certain document or folder — who, when, and for how long have viewed the file.
Q&A.

Streamlined Q&A management is fundamental to due diligence, M&A, and even internal collaboration. The best virtual data rooms integrate the Q&A functionality into the interface, creating a transparent and manageable query resolution flow.

Expert assignment

. This feature allows for assigning experts in certain fields to answer questions in the Q&A section. This way, a buy-side, for example, can get a prompt answer regarding legal issues when performing due diligence during an M&A transaction by assigning the question to the legal department.

FAQ.

It's possible to prepare the list of answers to questions users are potentially to ask during, for example, due diligence, beforehand.
24/7/365 user support.

Make sure that the data room provider you choose offers access to multilingual, responsive customer support. Look for the guarantees of fast response time and single-point-of-contact resolution. 

Expert training.

The best virtual data rooms provide free live expert training for all data room users. This way, vendors ensure that all users know how to use the data room and are aware of all the features it has.

Dedicated project manager or team.

Some top virtual data rooms offer a dedicated project manager or team that are to manage projects for their client. This is especially convenient for enterprises.
Virtual data room set up
To ensure a smooth transition to your new VDR, consider following these steps:
Gather all the necessary data and follow a specific file naming system
Have a clear vision and create the internal structure of your VDR (use folders, subfolders, access levels, categories, etc.)
Upload all files (VDRs typically have an automatic index numbering that numbers folders and documents sequentially as they are uploaded)
Create groups of users, set access permissions
Double-check everything and test functionality
Invite team members to begin work
If necessary, seek training for your team
These are the basic steps of a virtual data room set up. However, often it's better to learn much more about how to set up a data room and we've prepared the needed guide for you.
The advantages of virtual data room software
The combination of basic and advanced features, unlimited application approaches, and tailored offers for virtually any business makes virtual data room software an irreplaceable element of modern deal-making. The most prominent VDR benefits include:
FAQ
What is a virtual data room?
A virtual data room is a cloud-based file-sharing service that allows for the distribution of confidential files and sensitive documents securely and without the risk of their disclosure. Virtual data rooms offer enhanced security measures compared to ordinary file-sharing services, which makes them a reliable solution for sharing documents during complex financial transactions such as M&A.
How much does a virtual data room cost?
The data room industry has many VDR vendors, and they all greatly differ in cost. The virtual data room price depends on many factors — from the storage size and number of users you need for your project to the variety of features provided by a particular vendor. Usually, the price for a virtual data room varies from a few hundred to a few thousand US dollars.
What are the top virtual data room providers?
The best virtual data room providers include iDeals, Datasite, Citrix, CapLinked, and Firmex.
What's the difference between a physical data room and a virtual data room?
Physical data rooms, also often called traditional data rooms, are basically physical buildings that are used for document storage. Physical data rooms require you to physically come to the building to find the required file. In contrast, virtual data rooms are available 24/7 and from anywhere in the world, since it's a SaaS solution. Additionally, virtual data rooms ensure a secure sharing of confidential data due to the variety of security measures provided.
Why use virtual data rooms?
Virtual data rooms enable secure data sharing in a controlled environment. Thanks to the variety of document security features, access security features, and security compliance, you can rest assured that your confidential data is protected. Additionally, VDRs allow for effective communication between parties inside the software.
What should be in a virtual data room?
A virtual data room is a secure storage for your confidential data and sensitive information. Depending on the area of your operations, the set of documents to store will differ. Among others, users usually upload financial documents, clinical trial results, and intellectual property information to virtual deal rooms.